De ijzers worden wederom gesmeed, de drivers worden wederom gekruist! Na de overwinning van de Dandies in 2021 en 2022 willen de Divas weer revanche. Op zaterdag 16 september 2023 gaan we na het succes van de vorige twee edities de leukste fun golf battle van het jaar houden: een 18 holes wedstrijd tussen Golfdivas & Golfdandies. En wie komt er aan het einde van deze nu al weer legendarische dag als winnaar tevoorschijn…. De mannen of de vrouwen….
In samenwerking met het golfers platform InstagolfNL organiseert GOLFDIVA.nl deze ludieke wedstrijddag. En dat doen we op een mooie centrale locatie op een fantastische golfbaan: De Kroonprins in Vianen! Iedereen speelt zijn/haar eigen individuele 18 holes maar tegelijkertijd zorgen wij voor een spannende wedstrijdvorm waarbij je het in je flight al opneemt tegen je tegenstanders van de andere sekse en waarmee je punten gaat scoren voor de grote Teamscore.
Aan het einde van de dag zal duidelijk worden wie deze fun golf battle heeft gewonnen. Het wordt een ongelooflijk gave dag met ook superleuke wedstrijdprijzen.
Even alles op een rijtje:
Datum: 16 september 2023, ontvangst vanaf 09.30 uur met koffie/thee en iets lekkers. Tijdens de wedstrijd trakteren we je op baancatering.
Na de wedstrijd 2 consumpties & minibites
Deelname kost 95 Euro per persoon (je betaalt hier 40 euro en de 55 Euro greenfee betaal je op de dag zelf).
Schrijf je hieronder nu in. Na betaling van 40 euro ben je automatisch ingeschreven. LET OP! We hebben 5 reserveplaatsen. Het formulier geeft aan of je rechtstreeks bent ingeschreven of op de reservelijst bent gezet.
Schrijf je individueel in! Geef duidelijk aan of je een Diva of een Dandy bent. Wacht niet te lang, want vol is echt vol!
(Uitsluitend bij schriftelijke annulering voor 01-09-2023 vindt volledige restitutie van het inschrijfgeld plaats)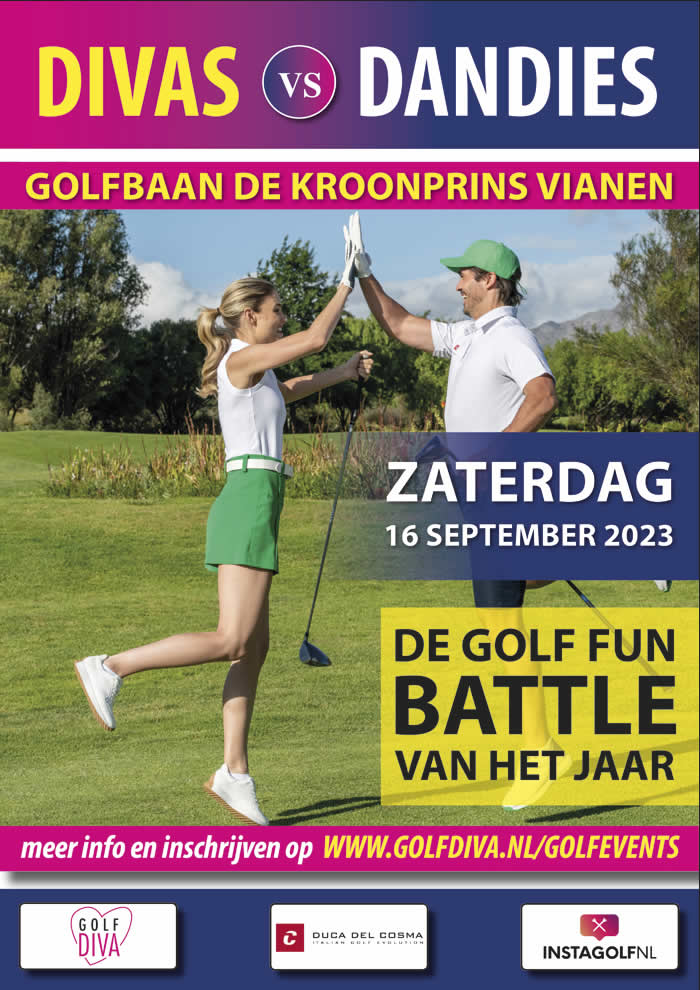 Inschrijving gesloten!
De inschrijving voor Divas versus Dandies is gesloten!